Please note that VyprVPN offers limited support for this platform. Setup instructions are provided as-is with no guarantee of functionality.
---
Many Asus routers running stock firmware, called AsusWRT, or flashed with AsusWRT-Merlin firmware have a built-in option titled VPN Client. You can use this option to establish a secure connection to VyprVPN directly on the router so that all of your connected devices are protected.
Follow the steps below to establish a VyprVPN connection using the OpenVPN protocol on your Asus router.
1. Using a web browser, log into your router with the address of the default gateway. If you did not change it, it will be http://192.168.1.1/
2. Navigate to the WAN section under the Advanced Settings section on the left.
3. Under the WAN DNS Setting section, select No for "Connect to DNS Server automatically". Then, specify the custom DNS addresses of your choice.
Suggested DNS server addresses:
Google DNS: 8.8.8.8 and 8.8.4.4
OpenDNS: 208.67.222.222 and 208.67.220.220 
Note: VyprDNS does not currently work with this setup. If you do not specify custom DNS, your VPN connection will establish, but there will be no throughput.

4. Click Apply at the bottom of the page.
5. Navigate to the VPN section under the Advanced Settings section on the left.
6. Click the VPN Client tab.
7. Click the Add Profile button and select OpenVPN in the pop-up.
8. Fill out the fields accordingly:
Description: VyprVPN (or name you prefer)
Username (option): Your VyprVPN account email address
Password (option): Your VyprVPN account password
9. For the Import .ovpn file portion, download the VyprVPN OpenVPN files on the article here. The downloaded file contains both 160-bit and 256-bit .ovpn files for all of our server locations. Select whichever one you wish to use and click Upload.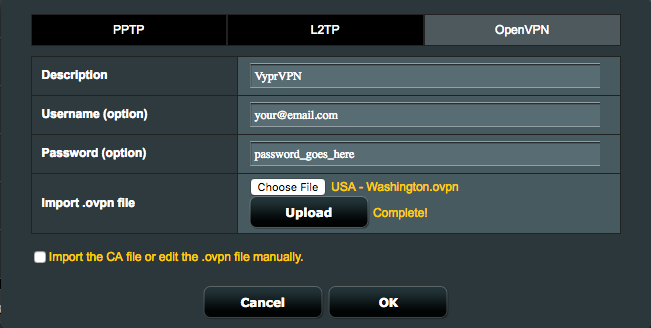 10. By default, the box for "Import the CA file or edit the .ovpn file manually," is unchecked. Leave it unchecked.
11. Click OK.
12. Notice your new VPN client configuration is listed on the VPN Server List.
13. Click Activate to initiate the connection.
Note: You may need to wait an additional minute or so for the VPN connection to become fully active after you see the checkmark appear in the Connection Status column.
14. That's it! You are connected to VyprVPN on your Asus router. To verify the IP address change, you can visit our IP checking page.
15. To disconnect at any time, click the Deactivate button next to the connected server in the VPN Server List.

If you need any further assistance, please contact our 24/7 Customer Success Team, who would be glad to assist.