In the VyprVPN app, server locations can be accessed by selecting Servers in the bottom-right.
If you need an IP address associated with a particular geographic location, scroll through the list of locations, or use the search field located above the list
If you want to find the server with the fastest connection, select the server with the lowest ping
Select Sorted By Country to change the way the servers are sorted.
Select the Star icon to set a server as a favorite. When a server is selected as a favorite, it will show at the top under Favorites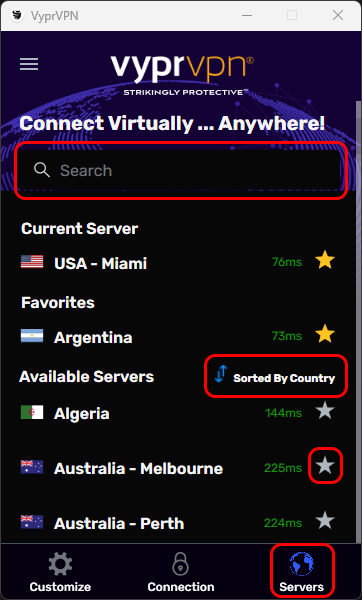 When you select a new location, VyprVPN will immediately attempt to connect to that location.
If you need any further assistance, please contact our 24/7 Customer Success Team, who would be glad to assist.