The VyprVPN application log is stored locally, along with the connection log which can be enabled and disabled. These logs are only sent when a user explicitly agrees to opt-in and send that information to Support for troubleshooting purposes only.
These logs contain the following information:
When the VyprVPN starts.
VyprVPN User ID.
The VyprVPN server and protocol used to connect.
The host machine IP.
Connection status between the VyprVPN app and VyprVPN network.
VyprVPN Network routing information such as remote MAC Address(es), Gateway IP(s), and Issued IP(s).
TUN & TAP Adapter status updates.
Error codes and file location(s) pertaining to the error.
When the VyprVPN app closes.
All this information is exclusively stored locally and is not transmitted to any external source without the express user consent. Only when the 'Submit logs' option is enabled when reporting a bug or utilizing the 'Contact Support' options within the app are these files transmitted.
You can learn more about our no-log policy by visiting our Privacy Policy here.
We've hired an independent firm to perform a full and complete audit that certifies our dedication to transparency- and we passed. Read the full report here.
This information, along with answers to many other frequently asked questions can also be located on our support site here.
You may wish to view these logs personally or manually submit them to our support teams if the VyprVPN app fails to send them when attempting to do so via the app. These logs can be located by performing the following steps.
1. Open Finder and perform the following key combination:
      Command 

⌘ + Shift ⇧ + G
2. Type "/var" within the navigation pane and click 'Go'. See the example below.

3. The VyprVPN logs can be located by navigating the following path:
 /var/log/GoldenFrog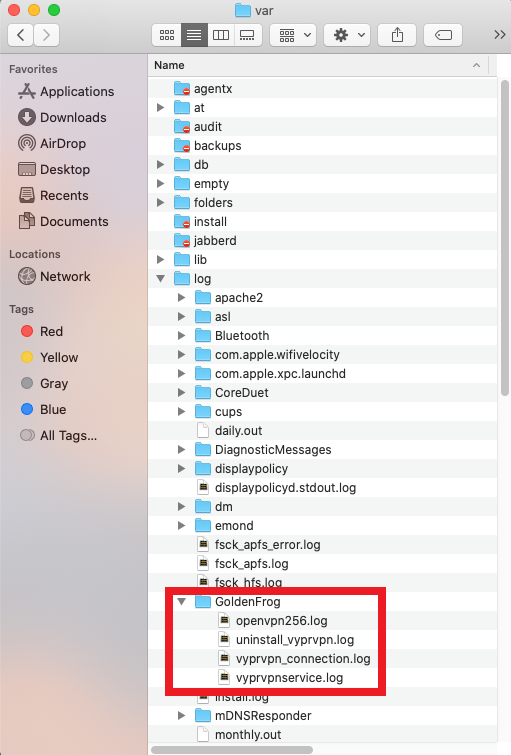 \
Here you will see up to four (4) files of various names such as shown in the screenshot in the previous step. You may view these files if you wish and are saved in plain-text format.
If desired or needed, you may attach these files to a direct email to our support teams at the following address: support@vyprvpn.com.
If you need any further assistance, please contact our 24/7 Customer Success Team, who would be glad to assist.