Any error which mentions devcon.exe will only relate to the OpenVPN and Chameleon protocols. If you'd like to get connected with minimal troubleshooting, changing the VPN protocol from the Customize menu in the app will likely get you up and running quickly.
To resolve the devcon.exe error, the first approach to resolving the issue is to restart the PC and try the connection again. If the error persists, reinstalling the app is the next step. Use these steps to uninstall the app, then reinstall it using the file on our website here.
If the errors could not be resolved by following the steps above, then the issue with the service failing to start may be tied in with corrupt C++ files. A fresh install of them may allow the app to launch and connect successfully.
To uninstall the C++ files, you can refer to the instructions above to uninstall the VyprVPN app, but select Microsoft Visual C++ 2015-2019 Redistributable (x86) instead of VyprVPN, as shown in the screenshot below: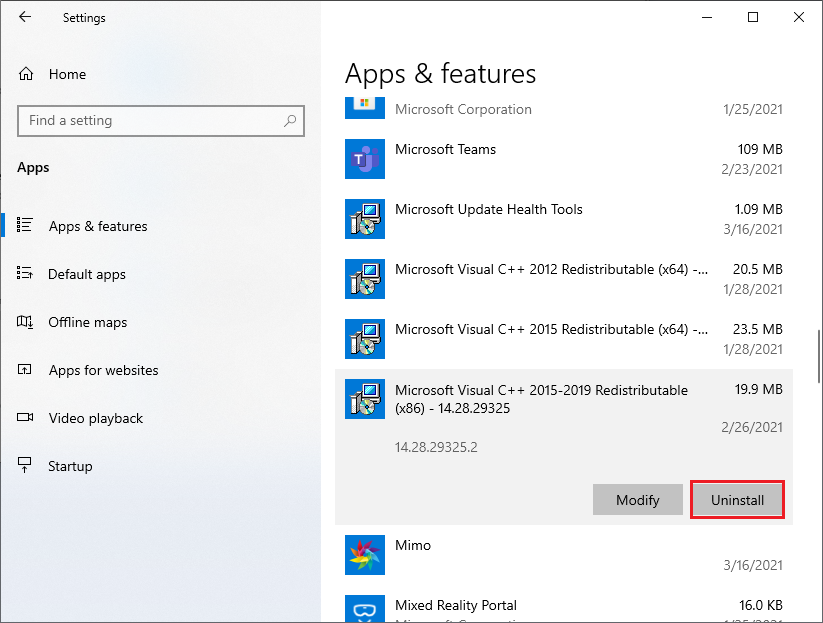 Once the uninstallation is complete, download and install the most recent x86 C++ redistributables from the following Microsoft support page (the name of the file is vc_redist.x86.exe):
The latest supported Visual C++ downloads
After installing the C++ Redistributable files, please restart your computer before trying VyprVPN again.
If you need any further assistance, please contact our 24/7 Customer Success Team, who would be glad to assist.