Errors 6004, 6012, and 6022 are OpenVPN and Chameleon errors that indicate an issue with the TAP adapter, which is required for the OpenVPN and Chameleon protocols to function.
When you encounter any of these errors, the VyprVPN app may prompt you to reinstall. If it does, then please try reinstalling, which will usually correct the error. Use the instructions here to uninstall the app. When you reinstall, use the current VyprVPN installation file found on our website here. If that doesn't help, or if you aren't prompted to reinstall, please try the instructions below:
Try changing the TAP adapter:
1. Click on Customize in the bottom left-hand corner of the VyprVPN application.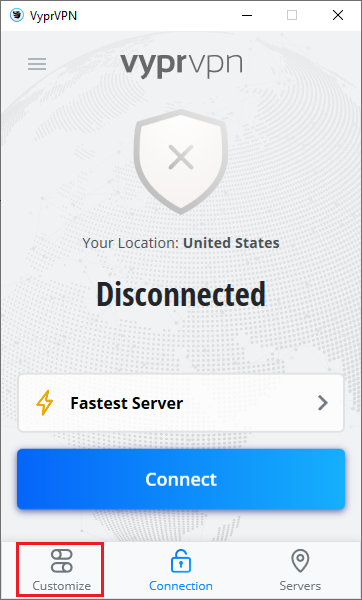 2. Scroll down and select Tap Adapter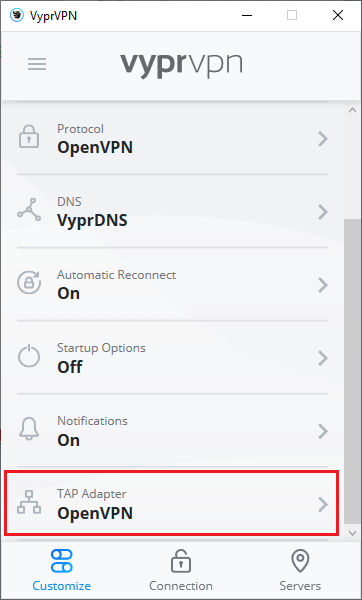 3. Select VyprVPN TAP Adapter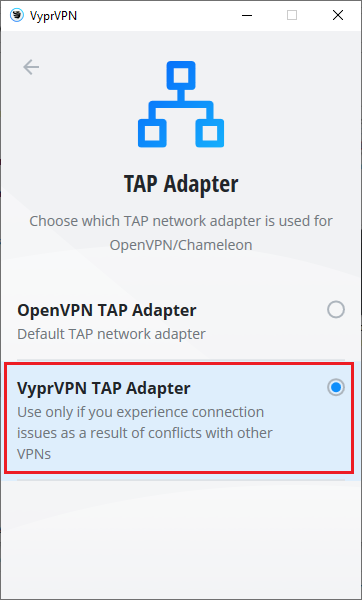 4. After changing this setting, attempt to connect via OpenVPN or Chameleon again.
If you are still having trouble after trying this, we will want to perform a complete uninstall and reinstall of the VyprVPN application and all of its components, if that has not been done already. You can find instructions to uninstall the VyprVPN app here.
After uninstalling and rebooting the computer, reinstall VyprVPN using the installation file found on our website here.
Once VyprVPN is installed, reboot the machine once more. If the problem still persists, then it may help to disable Fast Startup in Windows:
Search for and open Power options in the Start Menu.
Click Additional power settings
Click Choose what the power buttons do on the left side of the window.
Click Change settings that are currently unavailable.
Under Shutdown settings make sure Turn on fast startup is disabled.
If you need any further assistance, please contact our 24/7 Customer Success Team, who would be glad to assist.